Vitoria-Gasteiz, Spain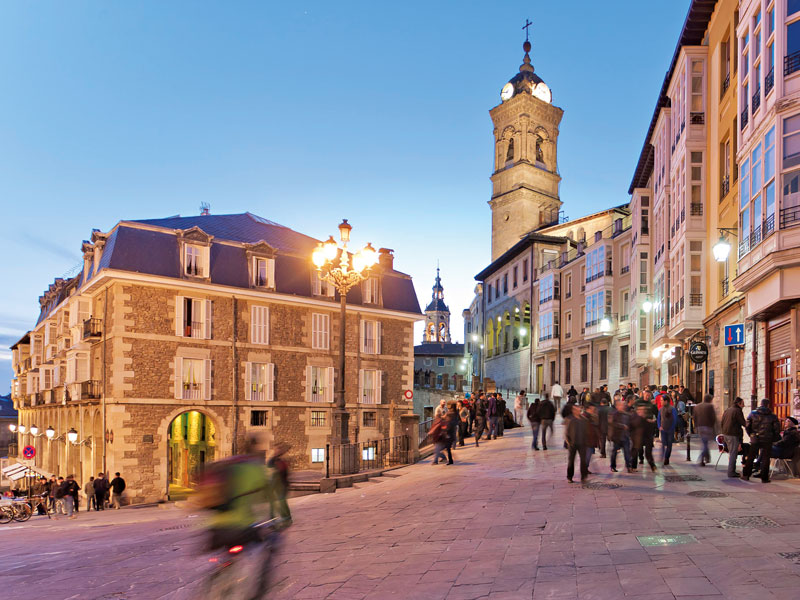 Strategically placed and with a wealth of greenery and culture, Vitoria-Gasteiz is a hidden gem in Northern Spain
Located 300km from Madrid and just 62km from Bilbao, Vitoria-Gasteiz's strong economic, cultural and political tradition looms far larger than its small size. The capital of Basque Country in Northern Spain, Vitoria-Gasteiz has a vibrant business environment and historical roots as deep as any city in the country.
In a city where gastronomy is considered an art form, there is no shortage of places where visitors can try local food, so showing up hungry is an advantage. Traditional Basque pintxos – small snacks similar to tapas, usually eaten with a toothpick or skewer – are a cornerstone of local culture. To wash them down, regional Txakoli wine and beverages from the Rioja Alavesa region are local favourites.
As an autonomous region of Spain, Basque Country has the legal authority to regulate and collect its own taxes, giving it a competitive edge in attracting business
Green city
Vitoria-Gasteiz was awarded the title of European Green Capital by the European Commission in 2012, and has received the Biosphere Responsible Tourism certification. It has one of the largest surface areas of green space of any city on the continent. The city's commitment to green spaces is further evidenced by the 250,000 trees and shrubs that dot its streets and parks.
Its Green Belt – the collective name given to the six large parks surrounding the city – is ideal for walking, running or cycling. The romantic gardens at La Florida park, meanwhile, are made up of 90 species of trees and 79 species of shrubbery.
The Salburua wetland habitat on the eastern outskirts of Vitoria-Gasteiz is among the most impressive natural landscapes in Basque Country. The habitat is home to one of the most endangered species in Europe – the European mink. This, coupled with its herds of deer and its location on avian migration routes, makes Salburua a wonder for lovers of flora and fauna.
A wealth of culture
Jazz, street art and magic all have their own festivals in Vitoria-Gasteiz, with the Azkena Rock Festival bringing in big names including The Who and Van Morrison. Additionally, traditional festivals such as one celebrating San Prudencio, the patron saint of the Alava region, are highly anticipated dates on the calendar.
The biggest, La Blanca Festivities, lasts six days and has one of the most vibrant atmospheres in Spain, with crowds singing while showering themselves in champagne.
Visitors are also spoilt for choice in terms of art. Works by Juan Muñoz, Salvador Dalí and Pablo Picasso can be seen at the Artium Museum, while Basque artists are proudly featured at the Fine Arts Museum. The centrepiece of the city is the Santa Maria Cathedral, a Gothic temple that originated as a church fortress in the 13th century before being reconstructed in the Gothic style throughout the 14th and 15th centuries.
A mind for business
As an autonomous region of Spain, Basque Country has the legal authority to regulate and collect its own taxes, giving it a competitive edge in attracting business. Vitoria-Gasteiz may not be huge, but it plays a crucial role in the Basque Country's reputation as a Spanish manufacturing hub: it is home to Mercedes-Benz's second-largest van plant, as well as a Michelin plant that will receive €80m ($93m) in investments between 2017 and 2019.
The Europa Congress Palace − one of the most impressive examples of sustainable architecture in Europe – also makes Vitoria-Gasteiz an attractive destination for business conferences. With capacity for 5,700 people and the ability to host up to 20 different events simultaneously, the Europe Congress Palace is one of the finest conference venues on the Iberian Peninsula.
The ability to reinvest tax revenue as it sees fit has enabled Basque Country to develop one of the best-educated workforces in Spain, as well as to consistently rank highly in terms of quality of life and GDP-per-capita in the country. This effect can be felt when walking the streets of the Basque capital. Whether for a business conference or simply to explore one of Southern Europe's greenest and most culturally rich cities, Vitoria-Gasteiz is not easily forgotten.