Riga, Latvia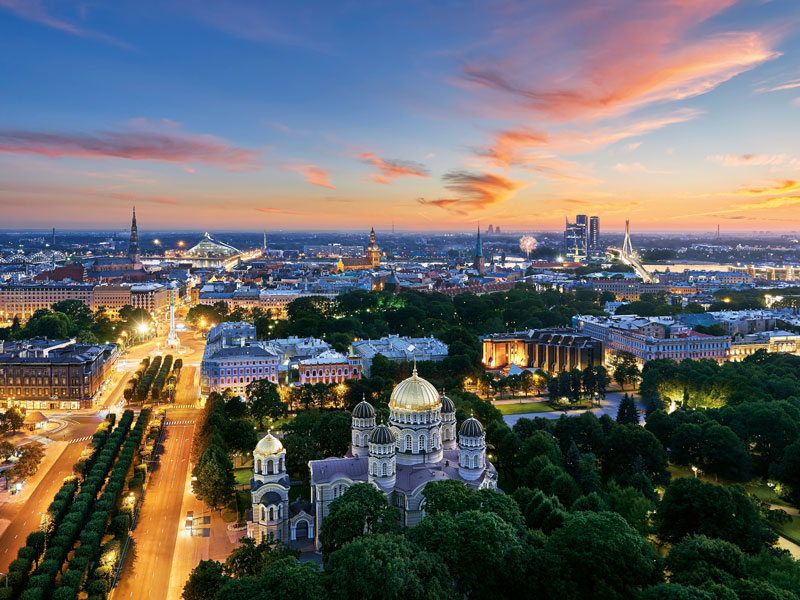 Latvia's capital city has long been recognised for its beauty. Now, Riga is becoming a sought-after destination for business events too
Positioned on the picturesque Gulf of Riga in the heart of Latvia, Riga is more than just an attractive summer destination. It is one of the biggest cities in the Baltic region that is included on UNESCO's World Heritage List, offering what is largely considered the finest collection of Art Nouveau buildings in Europe.
The city isn't just culturally important, however: it is also a rapidly growing start-up hub and home to many international companies. Its affordability and accessibility to other major European cities have helped to position Riga as a top destination for meetings and events.
Riga isn't just culturally important, however: it is also a rapidly growing start-up hub and home to many international companies
The virtues of versatility
Riga's capacity to host major corporate events has significantly increased in recent years, and as home to Radisson Blu Latvija Conference & Spa Hotel, the biggest conference hotel in the Baltic region, the city's MICE industry is only growing. The high-rise contemporary hotel is located in the very centre of the city, offering impressive views of the Old Town and the city centre, with all of the most popular sightseeing spots just a few minutes' walk away.
The hotel offers 571 rooms and suites, providing a choice of accommodation to suit any traveller's preferences. Guests can enjoy a comfortable stay and a wide range of leisure facilities onsite, including restaurants, the five-star ESPA Riga spa centre, a casino and signature drinks in the Skyline bar, which is located on the 26th floor.
The hotel's spacious conference and event centre is more than 3,661sq m in size and has 16 adaptable, state-of-the-art meeting and event rooms that can collectively host up to 2,500 people.
Whether you're visiting Riga for a day or a week, attending a five-person board meeting or an event for 500 guests, the Radisson Blu's Experience Meetings programme will make your occasion a memorable one. The hotel's versatile design means it can host any event – or even a car launch, with its indoor and outdoor spaces able to accommodate around 130 vehicles.
Guests can expect high-speed internet, Full HD projectors, a screen measuring 12m by 4m, a top-quality sound system and all-round professional service that will ensure a smooth and successful event. What's more, everything from sound to lighting and projectors can be managed remotely using the hotel's tablet system.
Food for thought
Latvians have a love of good food, and Riga's city centre has many cafes and restaurants offering local delights. For business events, however, it's important to maintain productivity and energy levels. This led Radisson Blu to introduce its unique Brain Food programme.
Developed by experienced nutritionists, the programme ensures event attendees don't suffer a post-lunch sugar crash, helping them keep concentration throughout their event. The fresh, vitamin-packed, low-sugar meals, made from the finest ingredients, provide a source of energy that will last the duration of the event.
A survey by the Latvian Tourism Development Agency shows that travellers who repeatedly come back to Latvia cite the hospitality of locals as the main reason for their return. Radisson Blu has special offers for those business visitors who choose the hotel for their events again and again.
The hotel's loyalty programme, Radisson Rewards for Business, allows loyal customers to gain points at more than 1,000 Radisson hotels worldwide. Each time they book an event, their points can be exchanged for free nights, room upgrades and bonuses such as air miles from the hotel's premium partners.