Hong Kong, China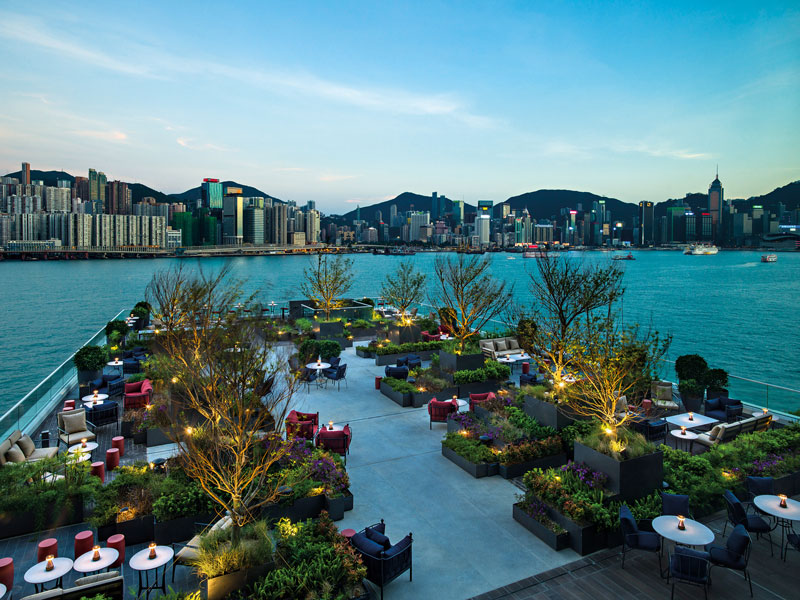 Hong Kong is more than just an urban jungle. Culture abounds in the energetic city, and moments of tranquillity are never hard to find
Largely known as a gleaming business region, Hong Kong has long attracted a mix of international clientele working in a range of industries. As well as maintaining its position as a successful corporate hub, Hong Kong has managed to retain the unique aspects of its culture that make it a pleasure to visit. Now, the city is making moves to show prospective visitors that it is more than just a concrete jungle.
Kerry Hotel is a proponent of this rebranding effort, and is defining a new breed of MICE experience by merging intuitive meeting spaces and solutions with its atmosphere of relaxed luxury and local culture. Located in a contemporary urban resort in Hung Hom Bay, the hotel offers guests spectacular views of the Hong Kong skyline, behind which sits the famous Lion Rock hiking trail.
The hotel offers guests spectacular views of the Hong Kong skyline, behind which sits the famous Lion Rock hiking trail
Hospitality at Kerry Hotel
Kerry Hotel is home to the city's largest pillarless hotel ballroom, as well as a further 16 event spaces. At an impressive 1,756sq m, the Grand Ballroom can accommodate more than 1,000 guests and is ornately decorated with nearly 20,000 overhanging rock crystals.
The venue is equipped with Hong Kong's largest LED wall, measuring 15.4m wide by 4.3m high, which makes for a spectacular display at any event. Meanwhile, the Hung Hom Ballroom, which measures 1,125sq m, is dressed with hand-painted wall coverings, which are embellished with artisanal gold patinas.
Both ballrooms can host conferences, weddings and special occasions, and cleverly integrate indoor and outdoor space, with terraces offering uninterrupted views of Hong Kong. The hotel offers a wide range of rooms, from the 42sq m deluxe sea view room to the 294sq m presidential suite, all of which come with contemporary comforts such as a custom-built open closet and complimentary minibar.
The Club, a 300sq m lounge, provides guests staying on dedicated floors with personalised services and amenities, including all-day refreshments, evening cocktails and canapés.
Conveniently located by the panoramic waterfront of Kowloon in Hung Hom Bay, the hotel is well connected with the rest of Hong Kong via the Hung Hom ferry, Whampoa MTR station, a bus interchange and taxi services. The 55km-long Hong Kong-Zhuhai-Macau Bridge, which connects Hong Kong with mainland China, will further improve the city's accessibility.
A taste of tradition
Visitors to Hong Kong will find a wealth of activities to keep them occupied during their stay. For those looking to gain an understanding of the city's history and culture, the Hong Kong Heritage Museum should be top of the list.
In keeping with the many activities offered by the hotel, the Bay Area Guide, created by Kerry Hotel, helps guests discover the city's history, food and culture through walking trails that follow the shore of Hung Hom Bay.
It is a definitive guide to the local neighbourhood and surrounding areas, giving residents and visitors a sense of the local culture, with authentic restaurants and hidden gems dotted along the way.
Kerry Hotel is just steps from Tsim Sha Tsui shopping district, an area saturated with an array of stalls and shops. Shoppers can buy anything from jewellery to cameras in this giant bazaar. Antiques enthusiasts should make their way to the Cat Street market, where hawkers have been selling their wares for more than 100 years.
Victoria Park, which is bordered by the city's skyscrapers, provides respite from the bustle that characterises Hong Kong. While peaceful, the park is always teeming with activity, with early-morning tai chi classes making way for afternoon tennis players. Visitors can find a shady spot by the waterfront and watch the bustling activity of Victoria Harbour.
With all it has to offer, Hong Kong is a vibrant hub that visitors can enjoy, whether they are in the city for work or play.