Mexico City, Mexico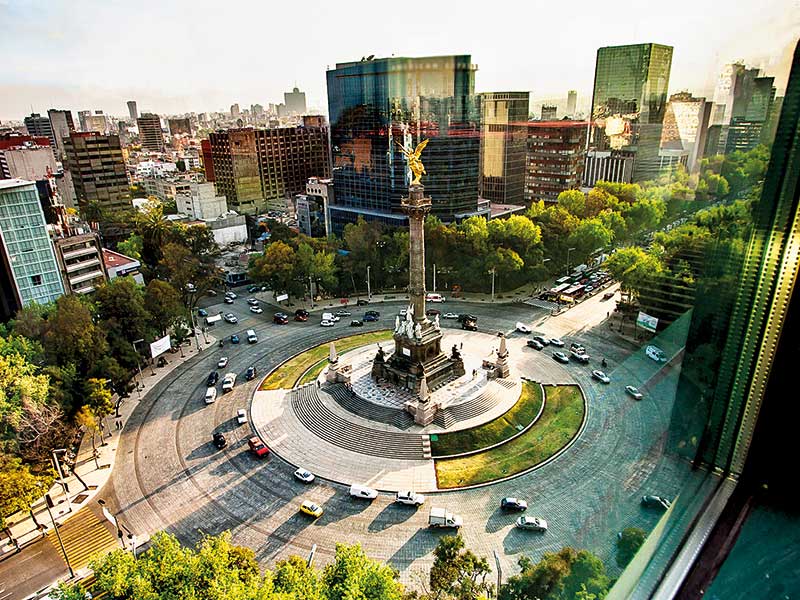 The Mexican capital should not be overlooked based on an out of date reputation. Its buzzing cosmopolitan atmosphere, environmental commitments and rich culture will not fail to charm
Headlines over the years have steadily generated a less-than-favourable reputation for Mexico City, painting it as dirty, dangerous, polluted and violent. Such reputations are sticky, and many remain somewhat hesitant about venturing to the city. And yet, a lot has changed over the past decade or so. The sprawling metropolis of 22 million people has so much to discover that people rarely visit just once.
It is certainly true that in the 1990s, pollution levels in the city were among the highest in the world. At present, however, the issue is far from being one of the city's distinguishing characteristics. A concerted effort by government officials has drastically improved air quality and scrubbed up Mexico City's once-grubby streets.
The city's transport chief, Secretary Tanya Müller García, has recently been quoted passing on tips to London's own authorities as to how best they might achieve cleaner air. Indeed, according to the World Health Organisation, one is now more likely to die in the UK as a result of pollution-related illnesses than in Mexico.
Forget what you've heard
Another reputation that continues to plague the city is its association with crime, kidnappings, corruption and narcotics-related violence. Once again, this status is largely out of date. While it cannot be said that crime has been driven out altogether, the city is certainly much safer than it once was.
Although it would be wise for visitors to take certain precautions with regards to taxis and pickpockets, the city's wider reputation for violent crimes is altogether rather inflated. Indeed, while Mexico's drug battles and homicide rates often feature in the international press, Mexico City itself has become something close to a safe haven. A single glance at its much-maligned homicide rates would indicate that it is actually safer than the likes of New Orleans, Detroit and Baltimore.
Mexico City is establishing a name for itself as a tech hub and thriving modern business environment
Today, Mexico City is establishing a name for itself as a tech hub and thriving modern business environment. The business world, for one, is beginning to take note of the city's remarkable progress. Drawn by Mexico City's tourism appeal, MICE tourism has been rapidly accelerating in recent years – indeed, according to the International Congress and Convention Association's annual statistics report, Mexico City beat Washington DC, New York City, Geneva and Dubai in the global ranking of meetings per city last year.
A cultural Mecca
This booming business scene no doubt comes down the fact that Mexico City presents a unique opportunity to mesh business and culture. Not only is the city an important financial centre and a global economic hub, it is often described as the cultural Mecca of Latin America. Illustratively, it is even possible to host business events in the house where Frida Kahlo once lived.
Mexico City has long been an important artistic and political hub, and its fascinating history inevitably seeps through into its modern day culture. In the early 19th century, it was called "the city of the palaces" by Prussian scientist Baron Alexander von Humboldt, who allegedly sent a letter home saying that it could rival any major city in Europe.
The city has since endured decades of Spanish colonisation and a bloody fight for independence, but this nickname has stuck, becoming something of a city motto. Today, while its streets are lined with a charming mélange of cafés, plazas, galleries and street food vendors, many of Mexico City's ancient palaces and other historical treasures are still standing.
Visiting Mexico City, one cannot fail to pick up on its remarkable energy. The combination of its teeming cosmopolitan atmosphere, superb cuisine, sprawling nightlife and wealth of art and history make it a truly unforgettable destination.
For further information: