Budapest, Hungary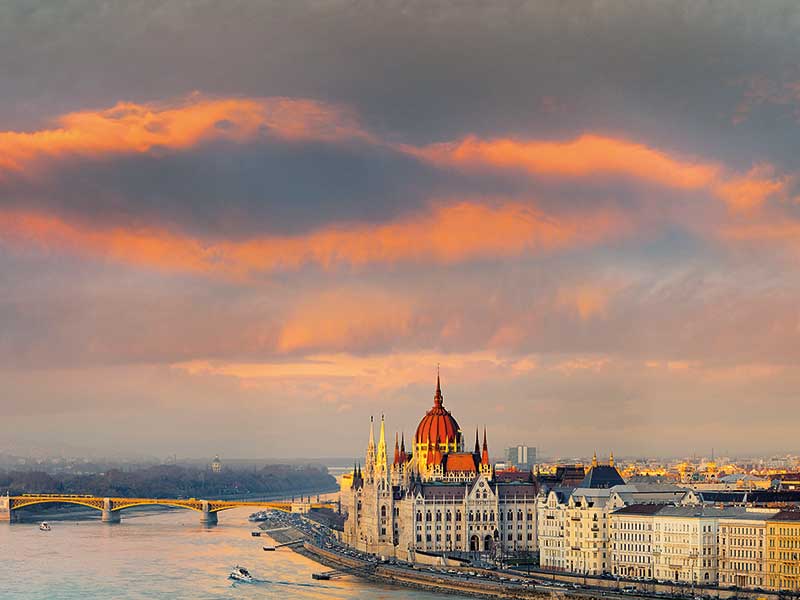 Though the city still bears the scars of its tumultuous history, Budapest offers a cultural experience like no other
The face of a capital city is often distinguished by the ugly marks of past battles waged and won, or the glittering embellishments of empires victorious then vanquished. Nowhere in Europe is the contrast between the two more raw and striking than in Budapest.
The idiosyncrasy of the city's architecture, history and entertainment put Budapest on the map for trendy 20-something travellers many years ago. However, gradually but unmistakably, word of Budapest's unique character has now begun to spread through the demographics. Tourist trips to the city have been steadily rising, and in 2016 the city recorded its highest ever overseas visitor count – a 21 percent increase on the previous year.
With the secret out, Budapest is unlikely to fade into obscurity again. This means that now – while the city still holds the thrill of the new – is the perfect time to plan an unforgettable Budapest trip.
All work, and all play
Hungary's capital is by all measures a thriving city, acting as the country's hub for everything from commerce and finance to art and entertainment. Because of this status, there is plenty to do outside business hours. In particular, experiencing the blend of eastern and western influence that makes Budapest so interesting is essential: although pummelled on both sides by territorial superpowers during two world wars, this experience helped the city become aesthetically rich, as a result of the cultural wealth of these two parallel civilizations. Budapest is now undoubtedly one of Europe's most visually exciting destinations.
Budapest's aura of splendour combined with decay is at its most literal in its famous ruin bars. This concept started 20 years ago, when a building earmarked for demolition after being ravaged by several decades of bomb campaigns was instead turned into a quirky makeshift bar. These slightly eccentric arrangements of devastatingly beautiful, crumbling buildings filled with mismatched furniture started springing up across the city, and now define Budapest's nightlife scene. They must be seen to be believed.
With the secret out, Budapest is unlikely to fade into obscurity again
Celebrating Budapest's extensive spa culture – a remnant of both Roman and Turkish rule – is another memorable way to spend an evening. For certain, a party featuring a water ballet performance in the city's grand Gellért Spa would make for truly original conference entertainment.
This prevalence of spas, along with the ever-present Danube River, makes water a central character in Budapest's story. The Danube slices Budapest into its Buda and Pest halves: originally two different cities, the watery barrier between them means both regions have kept very distinct identities. While hilly Buda is known as the scenic and traditional heart of the city, Pest is regarded as the thriving cosmopolitan soul. It is distinctive character quirks like this that make Budapest a city like no other.
Easy living
Unique as it is, Budapest still retains all the convenience of a modern capital. Good transport links and an easily navigable city centre are the side effects of well-designed infrastructure, built to facilitate Budapest's role as the heart of Hungary.
The international airport is located only 15 minutes from the city centre by public transport. Hungary also shares a border with seven other European states, meaning it is only a short trip away for many business travellers.
As well as convenience, all the choice one would expect from a capital city is on offer in Budapest. More than 5,000 luxury hotel rooms are available, along with many restaurants and convention centres that can cater to audiences of up to 2,000 people. The Budapest Congress Centre is the largest and most modern of these. Sitting in the middle of a leafy park on the elevated Buda side, the centre boasts stellar views of the impressive Hungarian Parliament Building and, of course, the glistening Danube.
For further information: