Cancun, Mexico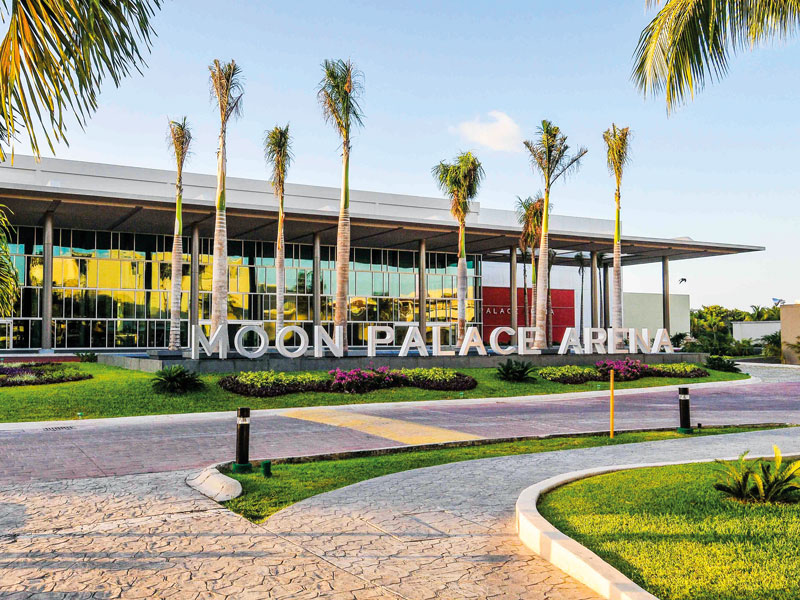 More businesses are turning to Mexico for their MICE activities, giving rise to the country's luxury hotel industry. At the heart of this rapid expansion are the star offerings of Palace Resorts
Whether visiting for the first time or the hundredth, Mexico's abundance of activities – from visiting Mayan ruins to traversing majestic mountains – makes each experience unique. Adding further to the country's appeal is the rising number of luxury hotels and tourist attractions. Consequently, Europeans and South Americans are arriving in droves, with visitor numbers from Asia and Australasia increasing for the first time too.
Whether seeking the ideal venue to host a landmark annual meeting or an unforgettable corporate incentive programme, the Grand at Moon Palace Cancun offers more than 140,000sq ft of smart indoor meeting space and spectacular outdoor event terraces that seamlessly blend cutting-edge style and functionality.
Upcoming enhancements are expected to further elevate the brand's event capabilities, providing visitors to the Grand at Moon Palace Cancun with multiple meeting rooms, a theatre with room for close to 1,000 guests, ballrooms, exhibition areas and outdoor spaces.
The Grand is located within the brand's signature property, Moon Palace Cancun, which is Cancun's largest all-inclusive resort. The resort is home to Mexico's most impressive convention centre, Moon Palace Arena. The $22m arena offers more than 140,000sq ft of multifunctional meeting and exhibition space, including eight meeting rooms capable of hosting up to 10,000 guests.
An increasing number of business travellers are identifying Mexico as the perfect MICE destination
The venue is fully equipped with the latest technology and audiovisual equipment. Since opening its doors, Moon Palace Arena has hosted a range of events including performances by Grammy-winning artists, touring Broadway shows, top-tier tourism conferences, regional festivals and other noteworthy events.
Whether you're looking to host a corporate conference, private meeting, concert or wedding, the Moon Palace Arena can accommodate the most extravagant of requests.
The Grand
Given the growing variety of transport and accommodation options in the country, it's unsurprising that an increasing number of business travellers are identifying Mexico as the perfect MICE destination. With a plethora of pristine beaches, world-class restaurants and sights to visit, there's much to do in Latin America's second-biggest economy.
Such attributes make Mexico an ideal destination for event organisers hosting conferences or companies rewarding star employees with incentive trips. Indeed, as clients become more demanding, MICE tourism in Mexico seems to grow in kind.
Nowadays, MICE participants want something less mainstream: they want to feel pampered and, more importantly, they want to feel that the experience is about them, not the company. This is where Mexico's luxury hotel brands fit in, and the Palace Resorts Group makes its name.
Located within the Moon Palace, the Grand is a self-contained resort that functions autonomously, with its own entrance and identity. The group check-in area takes MICE attendees straight to the meeting room complex, where a ballroom with windows fitted floor to ceiling – a rare gem in large-scale event spaces – greets guests with a flood of natural light. Several break-out areas provide further respite from the hustle and bustle of the public hotel.
A touch of class
Aside from the business facilities on offer, the Grand also benefits from luxurious décor, giving guests the feeling of indulgence. The Grand's wealth of activities ensures guests always have something to do, whether it's treating themselves to relaxing treatments at the spa or enjoying the resort's bowling alleys and array of swimming pools – which includes an Olympic-sized pool, as well as five others fitted with swim-up bars.
People often assume they must venture out of an all-inclusive resort to find a great restaurant, but this is not the case at the Grand, where 10 high-class restaurants satisfy every palate. Palace Resorts is always upgrading its culinary offerings to ensure a top-quality dining experiences for guests.
The group has an exclusive partnership with Certified Angus Beef, meaning its resorts are the only ones in Mexico and Jamaica to serve these quality cuts of beef. The group has also brought world-renowned pastry chef, Antonio Bachour, on-board to create decadent desserts, pastries and cakes.
Le Blanc
Perhaps Palace Resorts' most famous hotel is Le Blanc, which has been named Cancun's number one resort for the past decade. In 2016, TripAdvisor rated it as the number one all-inclusive resort in Mexico and number two worldwide. As well as being recognised as the destination's best all-inclusive resort, Le Blanc has consistently set the standard for MICE in the region.
Now, for the first time, parent company Palace Resorts is expanding the brand into the picturesque Los Cabos, a destination synonymous with luxury. Opened on February 2, this beachfront resort offers the latest in luxury accommodation, along with views of azure blue seas as far as the eye can see. And, as can be expected from Mexico's best-rated resort brand, rooms at Le Blanc provide amenities ranging from Bulgari toiletries and bath salts to garment steamers and smart televisions.
In addition to being a world-famous brand within the hospitality industry, Le Blanc is well known in the wider business community, gaining a reputation through word of mouth. This is largely due to the fact that MICE clients have a tendency to return to the resort year after year. Indeed, this is a key tenet of Le Blanc's success, with a vast majority of the hotel's business clientele made up of returning visitors or those who have been referred to the resort. This is testament to the staff's ability to support clients in achieving their objectives.
Palace Resorts prides itself on its people, and clients often compliment the quality of service and the friendliness of staff across the group's hotels. From gardeners to chefs, the front desk team to those in banqueting, it is this level of attentiveness that secures return customers, with event organisers particularly keen to know they are guaranteed a high-quality service.
This winning formula is present throughout every Palace Resort, giving clients confidence that every element of their event – no matter how small – will be catered for, and ensuring they return time after time.