Georgia, Tbilisi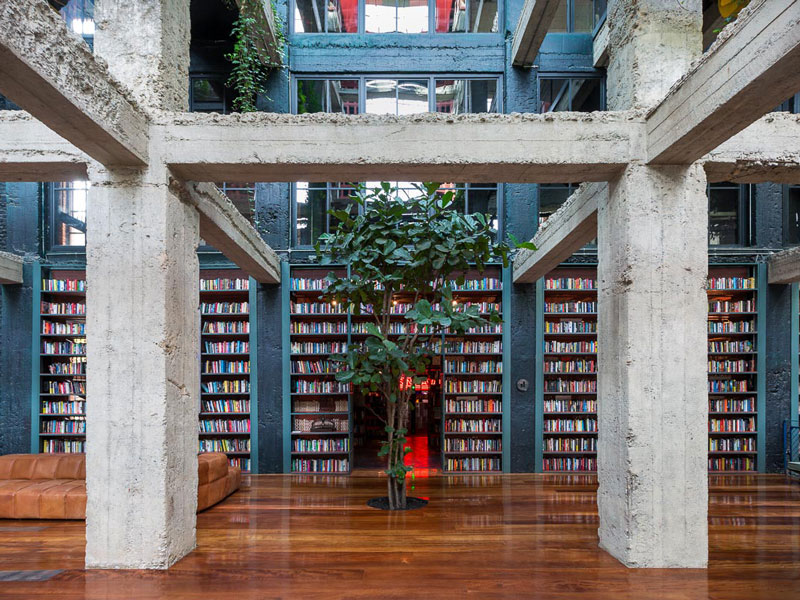 Nestled in the midst of downtown Tbilisi, the Stamba Hotel is a symbol of the city's rich history and burgeoning cool credentials
Georgia's picturesque capital city, Tbilisi, has a varied and colourful history. Thanks to its proximity to the lucrative Silk Road trade route, it was once the home of Georgia's prosperous textiles industry and was a key trade point for European and Asian merchants hoping to sell their wares.
The country was occupied by the Soviet Union for much of the 20th century, and was plunged into a period of civil war and economic depression when the USSR fell in 1991. Georgia has since regained its creative roots and begun to rebuild its legacy.
Architectural artistry
Myriad cultural influences are evident in Tbilisi's architecture, which incorporates classical Byzantine, Neoclassical and Art Nouveau styles, as well as modern Middle Eastern and Soviet design.
The Old Town, with its cobbled streets and topsy-turvy wooden houses, is home to many of the city's cultural attractions, including the ancient Narikala fortress, sulphur baths and stunning National Botanical Garden of Georgia.
Each of the hotel's expansive rooms gaze down upon the leafy central atrium, almost allowing guests to forget that they are in the centre of a bustling capital city
Across the Bridge of Peace, which is designed to resemble a marine animal and has an interactive light display embedded in its canopy roof, is Tbilisi's modern downtown district. This area is home to a growing crowd of artists, designers and creatives, who can often be found in Tbilisi's eclectic mix of cafes and galleries.
In the heart of this ultra-modern district lies the Stamba Hotel. Developed by emerging hospitality company Adjara Group, the retreat is located within a former Soviet publishing house. It has retained all of its industrial, Brutalist edge, with original features receiving a fresh, biophilic update.
The building's original print-drying beam has kept its place in the hotel's expansive atrium, but is now surrounded by tropical foliage and floor-to-ceiling bookshelves filled with thousands of fiction and non-fiction titles.
The Art-Deco-era paintings and furniture dotted throughout Stamba also lend a sense of old-world glamour and remind guests of the hotel's – and, indeed, the city's – intriguing heritage.
Cultural happenings
Each of the hotel's expansive rooms gazes down upon the leafy central atrium, almost allowing guests to forget that they are in the centre of a bustling capital city. The chic industrial design continues in each of the suites, too, where exposed brick walls offset decadent freestanding bathtubs, clad in gold for a truly opulent soak.
Aside from being a stylish retreat, Stamba is also a cultural hub in itself, boasting an open-air amphitheatre crowned by a decorative voltage tower built in the 1970s. The dramatic beamed archway leading to the tower is made from reclaimed wood that was removed to make space for the hotel's rooftop pool.
Stamba also plays host to the Tbilisi Photo and Multimedia Museum, featuring photography from local and international artists. The space is managed by a team of women who seek to highlight the work of female photographers in the South Caucasus through their contemporary exhibitions.
Stamba boasts two eateries celebrating the best of Georgian cuisine in a contemporary setting, as well as its very own chocolaterie and coffee roastery. Cafe Stamba works in collaboration with the Georgian Farmers Association to support national agriculture, and uses local ingredients in its range of traditional dishes.
The ultra-Instagrammable Pink Bar, meanwhile, serves up innovative cocktails into the early hours. Come Saturday morning, the great and the good of Tbilisi descend on both restaurants for a long, leisurely brunch.
The jewel in Stamba's crown is its partnership with Aviator Helicopters, which provides an exclusive flight service for hotel guests. Tbilisi, with its sweeping hills and fast-flowing Kura River, is the perfect city to explore from the air, whether you're visiting with friends, family or colleagues.