Flanders Meeting and Convention Centre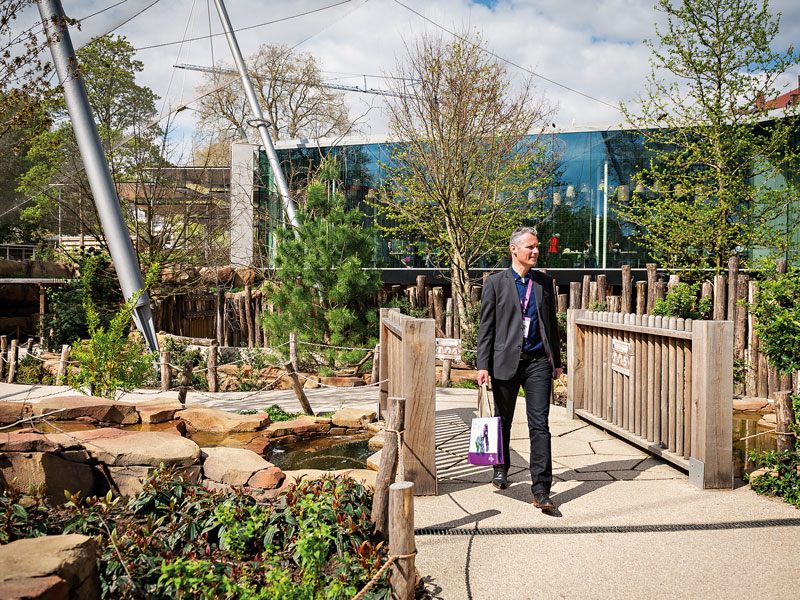 Set in the heart of Antwerp Zoo, Flanders Meeting and Convention Centre is a truly unique, world-class international conference centre
Located just a 10-minute walk from the historic Antwerp city centre is a conference centre unlike any other. Flanders Meeting and Convention Centre Antwerp (FMCCA) offers a surprising space for meetings, seminars, dinners and more, housed in a nearly 175-year-old zoo.
Belgium is naturally well placed for international meetings thanks to its central location in Europe. Antwerp may still be the younger sibling to Brussels when it comes to conferences, but it is nonetheless establishing itself as a choice host, thanks in part to FMCCA. Incredibly, a quarter of all overnight stays in Antwerp are linked to a conference or business event.
Incredibly, a quarter of all overnight stays in Antwerp are linked to a conference or business event
FMCCA is also conveniently located next to Antwerp Central Station, ensuring easy access by public transport. Numerous hotels, restaurants, must-see attractions and cinemas are also within walking distance of the conference centre.
An unrivalled space
FMCCA boasts 25,000sq m of function space, with enough room to host 2,700 participants. The Queen Elisabeth Hall and Atrium – the centre's main attraction – is a brand new auditorium-style concert hall with seats for more than 2,000 people.
The hall was specially designed to produce perfect acoustics; as a result, the world-famous Antwerp Symphony Orchestra has recently chosen the hall as its new home. On the other side of the doors, the atrium is an open space flooded with natural light, making it the perfect setting in which to welcome guests.
Yet another showstopper at FMCCA can be found in the Historical Wing, which features Art Nouveau architecture, striking marble columns and high ceilings. The Marble Hall is dramatic and impressive, but it is hard to top the Darwin Hall, which dates back to the end of the 19th century and has an eye-catching baleen whale skeleton hanging from the ceiling.
Guests will also be impressed by the Winter Garden, a late-19th-century tropical greenhouse. The garden, which holds hundreds of butterflies in the spring and summer, is the gem in the centre's crown.
For a more intimate setting, the Havana Room is ideal: designed with the Belle Époque style in mind, the room features authentic oil paintings and oak panelling, making it a great venue for small, relaxed groups.
The Carnot Wing, meanwhile, offers a number of rooms with a high-class, executive feel. The modern spaces are luxurious and timeless in their simplicity.
Sustainable dining
Elisabeth Catering, FMCCA's in-house catering facility, enhances any event with a first-class dining experience. Unique options include dinner and an after-hours walk through the sleeping zoo, or an atmospheric meal in the aquarium surrounded by blacktip reef sharks and clownfish in one of Europe's largest reef aquariums.
Sustainability is important to FMCCA, so Elisabeth Catering follows the Good Fish Guide in its selection of sustainable seafood. This means the fish that guests are served have been sustainably caught or farmed in a way that places minimal strain on the environment.
The catering service is also Rainforest Alliance certified, carries the Belgian blue-white label – which guarantees locally bred beef – and does not serve foie gras, tuna or any endangered species.
The venue's passion for sustainability goes beyond its food choices. According to Chief Commercial Officer Anja Stas, every penny spent at the conference centre is managed by the Antwerp Zoo Foundation and directly contributes to efforts in the field of animal welfare, heritage, breeding programmes, research and nature conservation.