The Gold Coast, Australia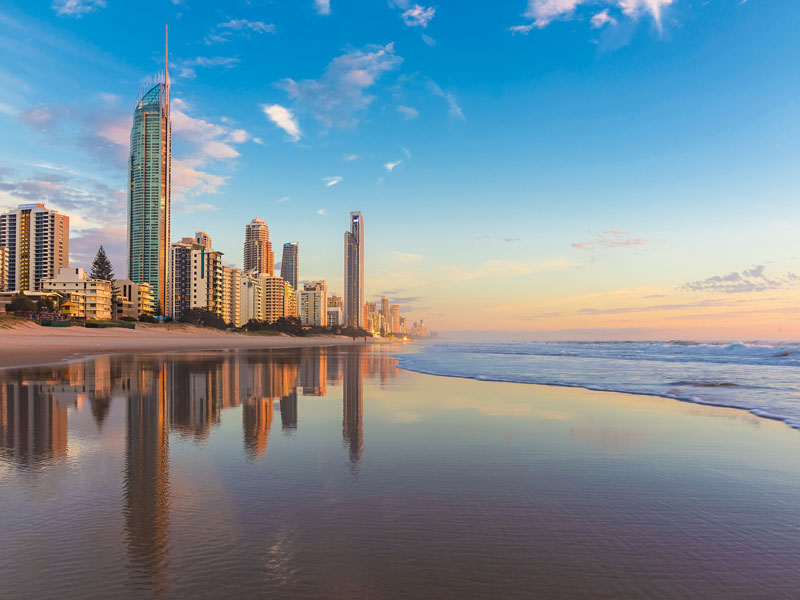 On a glittering stretch of coastline just south of Brisbane, Australia's Gold Coast is much more than a surfer's paradise
Travellers hoping to bask in the rays of a winter Sun should look no further than Australia's Gold Coast. Boasting 300 sunny days each year, the coastal city is famous for its white-sand beaches, which stretch for 57km along Australia's eastern shoreline.
The Gold Coast long suffered from a reputation as a kitsch holiday destination that boomed to life in the 1980s, but in recent years, the city has reinvented itself as a beacon of cosmopolitan vibrancy and youthful flair. Today, the Gold Coast brings a uniquely energetic edge to the typical laid-back Australian attitude, making it an ideal destination for business or pleasure.
In recent years, the Gold Coast has reinvented itself as a beacon of cosmopolitan vibrancy and youthful flair
While the Gold Coast's beaches are tempting, visitors will be rewarded for travelling slightly further afield. Deeper inland are the stunning Springbrook and Lamington National Parks, which are part of the UNESCO-listed Gondwana Rainforests of Australia. The subtropical hinterland is home to spectacular waterfalls, natural swimming holes and lookouts, as well as rare birds and plants, koalas and a large colony of glowworms.
After working up an appetite, the city's thriving foodie scene is a must-visit. The once tacky dining options have been replaced by international cuisine and thoughtful eateries that make use of the area's excellent local produce.
The newly revamped Pacific Fair shopping centre – Queensland's largest – is also well worth a visit. Elsewhere, newly emergent art galleries feature local and international contemporary artists.
The state of Queensland has recently welcomed in record numbers of business travellers, and as Queensland's second-biggest city, the Gold Coast is well placed to snap up more of this market in the future. With its identity refreshed, the Gold Coast will have no trouble embarking on a new era of tourism.