Singapore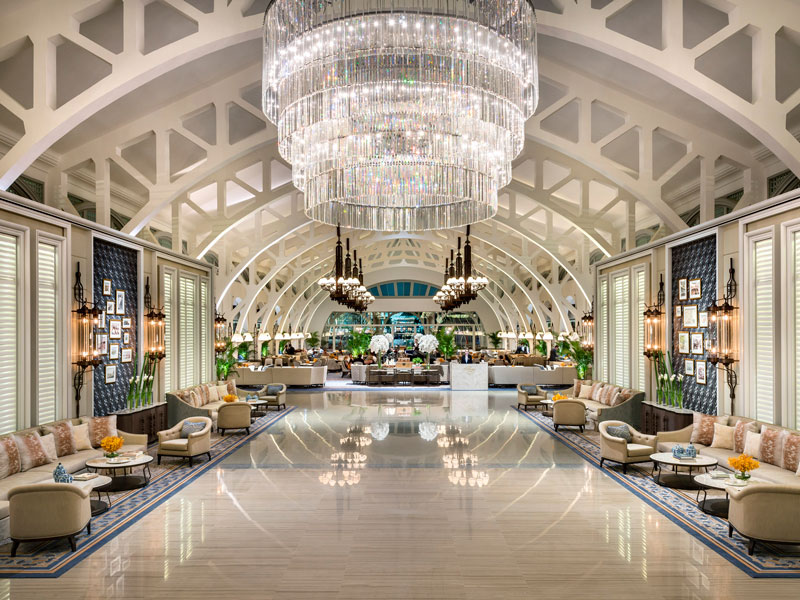 Located in the centre of the fast-paced, pioneering city of Singapore, the Fullerton Hotel is a luxurious retreat for business travellers
It's little wonder that Singapore is known as the top Asian Tiger economy. The city-state has seen exponential growth over the past century – since gaining independence from the UK and subsequently Malaysia in 1965, Singapore has excelled in every sector, from education and entertainment to technology and tourism. Under the leadership of its founding father, Lee Kuan Yew, the country has made an impressive transition from developing nation to economic powerhouse in a single generation.
Singapore has made an impressive transition from developing nation to economic powerhouse in a single generation
Over the past decade, Singapore's success has been recognised by many well-respected institutions. In 2016, the World Economic Forum ranked it in first place on its Networked Readiness Index, while the Eden Strategy Institute named it one of the world's smartest cities and the Union of International Associations listed it as a top international meetings city. It also has the third-highest GDP per capita in the world, thanks in part to its thriving financial district.
Growing popularity
While Singapore's business credentials are well documented across the globe, its tourist industry is less renowned – but things are set to change. The city-state saw a 7.14 percent increase in visitors in 2018 compared with the previous year, thanks in part to films like Crazy Rich Asians, which brought it into the international spotlight.
Singapore boasts a year-round tropical climate, a thriving arts scene and a plethora of outdoor attractions, including the spectacular Gardens by the Bay. Spanning 1.01sq km of reclaimed land beside the Marina Reservoir, the trio of gardens boast two conservatories – the Flower Dome and Cloud Forest – and the vertical Supertree Grove, which includes a unique mid-air walkway.
Despite the city-state's relatively short existence, there's plenty of history to explore, and there's no better place to begin than at the Fullerton Hotel. The magnificent Neoclassical building has a varied history: built in 1928, it was once home to Singapore's General Post Office. In 2015, it was designated as a national monument, and has since been reimagined as a luxurious 400-room hotel.
All of the Fullerton's expansive bedrooms benefit from free Wi-Fi, making them perfect for travellers working on the move. They each have their own unique character, and are steeped in history – the Presidential Suite, for example, was formerly the card room of the elite Singapore Club, and is furnished with a baby grand piano and private elevator for discreet access.
The lap of luxury
Guests are spoiled for choice in the hotel's six inclusive eateries, each featuring a different cuisine to reflect Singapore's multicultural population: the Town Restaurant serves traditional Singaporean dishes on a terrace right beside the sparkling Singapore River; Jade's illustrious head chef Leong Chee Yeng provides guests with authentic Cantonese cuisine; and diners at Lighthouse Restaurant and Rooftop Bar can enjoy Chef Carlo Marengoni's Sardinian specialities.
For light relief between meals, the Fullerton's spa is internationally renowned for its decadent 90-minute treatments. The spa was named the best luxury business hotel spa in South-East Asia at the World Luxury Spa Awards in 2017 and 2018. It delivers a range of relaxing and effective therapies, using natural, paraben-free products. It also boasts a 25m outdoor infinity pool, a sauna and a steam room.
If you are one of Singapore's many corporate travellers, the Fullerton has a host of business-friendly facilities to make your trip as stress-free as possible. Featuring six different function rooms, including an opulent ballroom that can accommodate up to 600 guests, the hotel caters to all kinds of functions, from large corporate events to small private meetings.