Hotel Kämp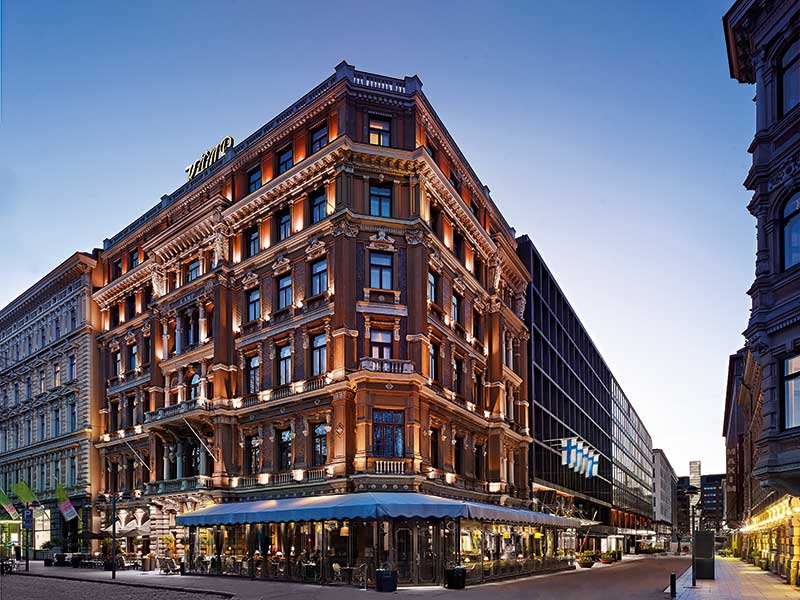 As one of the most luxurious hotels in Finland, Hotel Kämp promises guests outstanding quality in a haven away from the noise of everyday life
Among the publications that have confessed their love for Helsinki are Monocle, The Economist, The Times, the Financial Times and many others. The contemporary and cool metropolis with a big character keeps on enchanting visitors, and when in Helsinki, there really is only one place to stay: the hotel of choice for heads of state, A-list celebrities and all those in the know.
Hotel Kämp is Helsinki's definitive grand hotel. For 130 years, Kämp has been the most luxurious hotel in town, and this year will also be celebrating Finland's 100 years of independence. Hotel Kämp has stood as a landmark while Helsinki has grown into a Nordic capital that is loved and appreciated by all its visitors.
Carl Kämp, the father of Hotel Kämp, was a well known and respected restaurateur whose goal was to design, fund and build a modern hotel in Helsinki. The media immediately praised the hotel as "regal", "magnificent" and "continental". Hotel Kämp was also at the forefront of the adoption of modern technology at the time, as it was the first hotel in Finland to have an elevator and one of the first to use electric lighting. Even today, the walls hide within them the very latest and greatest in technological innovation.
A rich history
Hotel Kämp was – and to this day, remains – the most international hotel in Finland, as well as an irreplaceable part of Finnish history, having witnessed many important events in the history of both Helsinki and the country as a whole.
When Hotel Kämp opened its doors in 1887, it instantly became the centre of Finnish culture and, in many ways, the centre of the city itself. Many artists, as well as several international stars and important figures in culture, society and politics, have been inspired at the tables of Hotel Kämp since the 19th century. Kämp is still their choice when they need to organise high-level events, such as media dates, seminars, conferences and celebrations.
The unique hotel experience
Hotel Kämp contains 179 rooms, ranging from the luxurious deluxe rooms to the illustrious Mannerheim Suite, which boasts an impressive floor space of 258sq m. Additionally, the hotel is fitted with 10 conference rooms for meetings and banquets, with the popular Mirror Room being the jewel in the crown.
Kämp Spa welcomes guests to escape from the hustle and bustle of everyday life. Its comprehensive and tailor-made treatments restore vitality to your skin while pampering your body and soul. Guests can relax in our exquisite sauna department, where there are two different kinds of saunas: the intimate eucalyptus-fragranced grotto steam sauna, and the traditional Finnish sauna. Lounging on the softly heated divans will guarantee an unforgettable spa experience. Additionally, Kämp Spa has been completely refurbished this year.
Kämp is a hotel for cosmopolitan, quality-conscious, fashionable, cultivated and demanding customers
Kämp has always been known for its superb culinary offering. Since its beginnings, the hotel has brought an international breeze from far-reaching European metropolises into Helsinki. Ever since, the restaurants of Hotel Kämp have been dedicated to outstanding quality and a wide range of cuisines.
Kämp is a hotel for cosmopolitan, quality-conscious, fashionable, cultivated and demanding customers. Staying here has nothing to do with age or occupation – it is all about lifestyle. At Hotel Kämp, the customer always expects to receive the very best. Kämp's rich, prestigious past continues to define its soul and very being, while offering all the modern luxuries and services one could desire.
Kämp wishes to maintain many of the traditional and timeless elements embedded in its – and the city's – past, integrating them with modern, luxurious features to balance heritage with high functionality. This creates a unique hotel experience.
We welcome all visitors to Helsinki to stay with us. Memorable moments are what we offer at our grand hotel. Be inspired and fall in love with Helsinki and Hotel Kämp by being part of the finest hotel traditions in town.