Hilton Bursa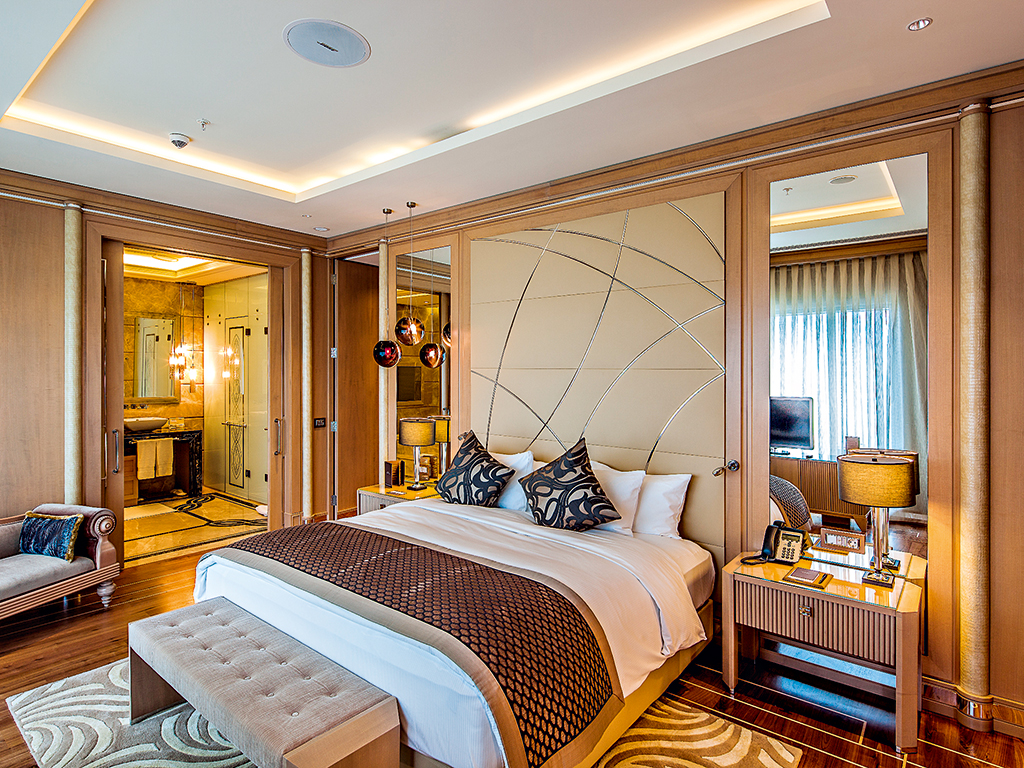 The stunning Hilton Bursa is located in the Turkish city of Bursa, resting in the intersection between the hubs of Istanbul, Ankara and Izmir
Located in the northwestern corner of Turkey, Bursa is the country's fourth-largest city, with a population of nearly three million. While often celebrated as one of Turkey's most industrialised and culturally charged metropolitan centres, Bursa is also referred to as 'Yeşil Bursa' – meaning 'green Bursa' – as a nod towards the beautiful parks and gardens that are scattered throughout its urban network. Vast forests and the towering Mount Uludağ provide an idyllic backdrop for this most diverse of cities.
Hilton Bursa's stunning interior design reflects the rich historical heritage of the fascinating city in which it is situated
Mausoleums of early Ottoman sultans are situated throughout the city, with numerous edifices that were built throughout the Ottoman period comprising the city's main historical landmarks. The city's thermal baths, surrounding fertile plain and its selection of museums – most notably its renowned museum of archaeology – are all attractions that continue to draw in visitors, both from across Turkey and the rest of the globe.
Award-winning luxury
Located within the very heart of this diverse and vibrant city is the Hilton Bursa Convention Centre and Spa. The hotel is dedicated to providing its guests with luxury, comfort and quality service, all within easy reach of the bustling city centre. The hotel set a new standard for the entire Hilton collection only one year after it opened, winning a Hilton Award of Excellence in 2013. In recent years it has also won a string of industry awards, including being named the best-managed city hotel by the Turkish Association of Professional Hotel Managers (POYD). The Hilton Bursa was the first hotel in the city to receive such an award.
Hilton Bursa's stunning interior design reflects the rich historical heritage of the fascinating city in which it is situated, with its recurring turquoise and cream designs reminiscent of ancient Anatolian marble, tiles and ornaments. This classical style resonates throughout the hotel's 187 luxurious rooms, including 12 suites, allowing guests to experience the utmost comfort and indulgence for the entirety of their stay.
Diverse activities
The Skylight Restaurant and Bar is located on the 18th floor of the hotel, offering guests breathtaking views of Bursa and Mount Uludağ while they dine. Additionally the hotel's Brasserie Restaurant can be found on the ground floor, serving breakfast, brunch and colourful Italian dishes every lunchtime, as well as offering a private dining room for business functions. Guests can also enjoy tea, aromatic Turkish coffee and a selection of cakes and homemade chocolates at Hilton Bursa's Patisserie Vivienne.
Guests who find themselves in need of relaxation during their stay can visit the Aneta Spa and Wellness Centre. Offering a fitness suite, indoor pool, sauna, steam room and a Turkish bath, the spa also provides massages and a variety of special treatments. For those seeking a little more excitement, the hotel is a short distance away from Bursa Zoo and the Botanical Gardens, and is located only 45km away from theUludağ National Park. Or, for guests wishing to stay a little bit closer to home, the hotel's own Speedcity Entertainment Centre boasts Formula 1 simulation cars, as well as regular Latin dance nights.
Hilton Bursa offers a variety of meeting facilities, including a ballroom that can serve up to 800 guests banquet-style, 12 interconnecting meeting rooms and three VIP lounges. Providing the perfect setting for business and social functions alike, Hilton Bursa Convention Centre and Spa is the ideal location for memorable dinners, dynamic meetings and luxurious accommodation.