Gstaad Palace Hotel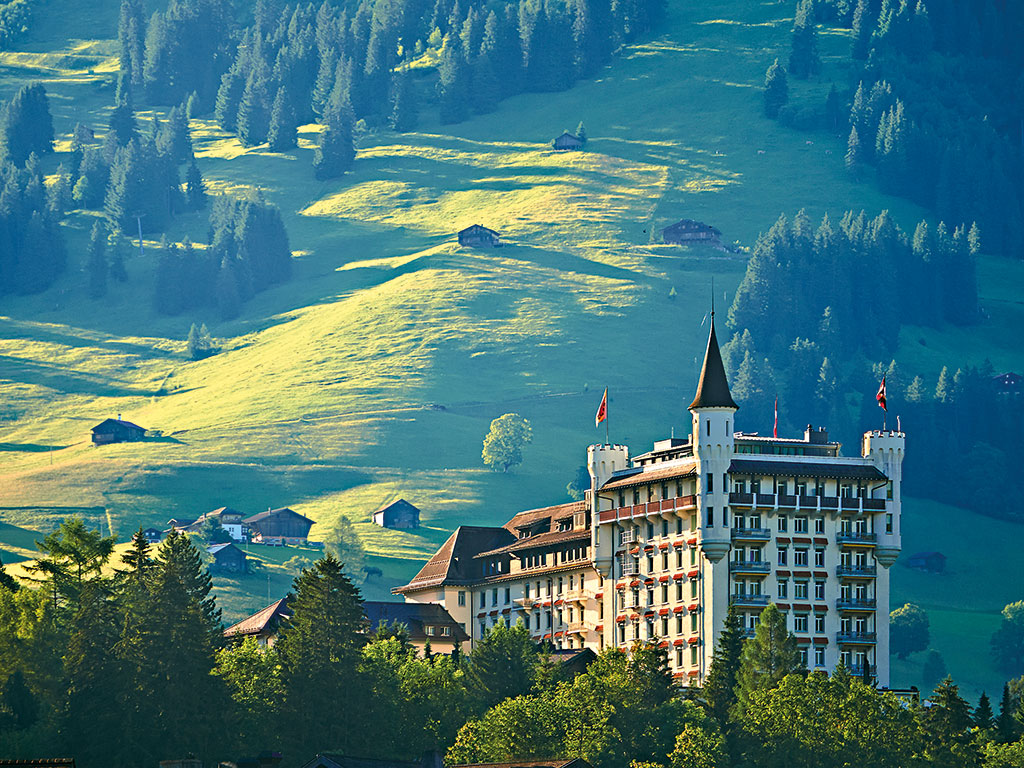 For over a century, Gstaad Palace Hotel has offered guests luxurious comfort from the heart of Switzerland's spectacular mountains
When Gstaad Palace first opened its doors in 1913, it was celebrated as a modern hospitality icon, offering its guests the most luxurious and innovative amenities available. More than a century later, the hotel has become known as a classical masterpiece, continuing to deliver some of the finest service in the region.
The 102-year-old turreted landmark in Switzerland's Saanenland valley, which combines contemporary glamour with natural alpine beauty, today rests in the hands of the third generation of the Scherz family. The dedicated owners are committed to maintaining the original objectives of their lineage: satisfying guests' every need and creating a pleasant and relaxing atmosphere. These key goals are recorded in the hotel's official maxim: 'Every guest is a king, and every king is a guest'.
Gstaad Palace has become known as a classical masterpiece, delivering some of the finest service in the region
Winter warmth
Today, the Gstaad name is synonymous with sophistication and luxury, providing indulgent holidays in an unspoiled natural environment. Offering a unique juxtaposition between modernity and tradition, Gstaad Palace makes a point of supporting traditional lifestyles, crafts and architectural forms.
The enormous, far-reaching appeal of this simultaneously stylish and traditional resort has been summarised time and time again with the German word gemütlich: warm, restful and friendly. As a result, the hotel's guest list from the past century reads like a who's who of the international jet set, having for decades drawn Hollywood names, European presidents and managing directors of globally renowned firms to its halls. When visiting the alpine resort, Julie Andrews, actress and long-time resident of the area, described it as the "last paradise in a crazy world".
Nestled in an environment that couldn't be more inviting to groups and business clienteles, Gstaad's unique Rent-a-Palace scheme gives visiting delegates the chance to hold the keys to one of the world's last family-owned luxury hotels in their own hands. Reserving the entire Gstaad Palace is an appealing alternative for large groups and conference assemblies, providing exclusive access to the historic resort and its facilities.
During such a stay, guests are guaranteed the full attention of the hotel's dedicated staff, privacy for all meetings and events, a luxurious setting complete with spectacular views of the Alps, and a vast selection of corporate amenities and recreational facilities within easy access. There are five conference rooms on site, ranging in size from 200sq ft to more than 2,000, and all meeting rooms are fully equipped with the resort's own high-specification technical conference equipment.
Alpine amenities
Gstaad Palace's 100 guest rooms and suites offer majestic mountain vistas, while its five different restaurants are famous for the culinary delights provided by the hotel's award winning executive chef, Peter Wyss. Guests also have use of the hotel's expansive Palace Spa, which ranks among the most beautiful in the Alps, as well as four tennis courts, a squash court and Gstaad Palace's own nightclub, GreenGo.
In the Gstaad region, guests have access to a unique selection of first-class activities set in idyllic natural surroundings. Countless leisure time opportunities are on offer, including heli-skiing, hot air ballooning, river rafting and canyoning. Alpine authenticity, proudly maintained traditions and a touch of glamour give the area an unmatchable air of beauty, making Gstaad so refreshingly different from the rest of the world.