Berlin, Germany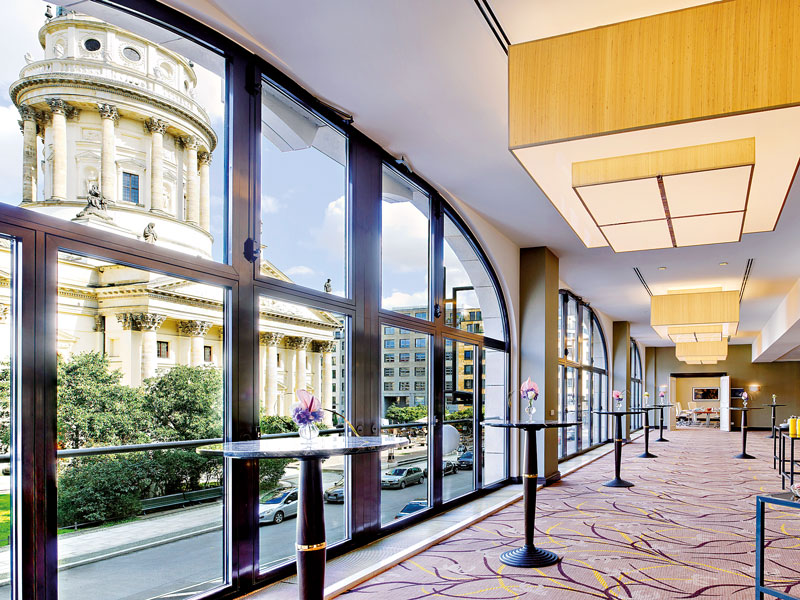 As Germany prepares to commemorate the 30th anniversary of the fall of the Berlin Wall, the Hilton Berlin showcases what can be gained from blending traditional services with modern offerings
The Berlin Wall sliced Germany's capital city in half between 1961 and 1989, drawing a line between East and West Germany, and presenting a vivid image of a nation divided following the Second World War.
This year, November 9 will mark the 30th anniversary of the fall of the Berlin Wall, a historic event that will be celebrated and remembered around the city. But in spite of its reunification, Berlin remains a multifaceted city: it is simultaneously traditional and modern, and as vibrant as it is glamorous.
Nowhere do the two sides of Berlin come together better than at the Hilton Berlin
Nowhere do the two sides of Berlin come together better than at the Hilton Berlin, which is located in the city centre on the iconic Gendarmenmarkt square. Having recently celebrated its 100th anniversary, Hilton is clearly a veteran of the hospitality market, but the hotel's drive to continually innovate has kept it at the forefront of the industry.
An authentic touch
The Hilton Berlin offers all of the conveniences a modern business traveller would expect. With more than 600 bedrooms and 15 meeting rooms designed to host anywhere between 10 and 500 delegates,
the hotel can welcome groups of any shape or size.
Its location is perfectly suited to both business and leisure: it is only a 30-minute trip from Berlin's Tegel and Schönefeld airports, and is within walking distance of all of the city's major attractions, including the Brandenburg Gate. Guests can also relax onsite in the hotel's spacious executive lounge, its dynamic lobby bar or the newly renovated health club and spa.
Meanwhile, at Restaurant Beletage, which faces the striking domed roof of the Deutscher Dom, guests can enjoy the breakfast buffet. With two connecting meeting rooms, this flexible venue is a convenient site for both small gatherings and gala events of up to 350 people.
Today, business travellers want more than the standard ballrooms and meeting areas: they are searching for authentic experiences, distinctive cultural encounters and the spark of something different. The Hilton Berlin recognises this, providing offerings that go above and beyond ordinary meetings and events spaces. In fact, the hotel was recognised by the World Travel Awards as Germany's leading conference hotel in 2019.
Local flavour
As part of the Hilton Berlin's bespoke approach to the meetings and conferences it hosts, the hotel offers an array of unusual activities. For instance, guests can request a private gin and craft beer tasting session or head to the Hilton's casual Listo Lounge, where groups of up to 60 can enjoy local brews and distilled spirits.
Another unconventional option at the Hilton Berlin is the Dom Curry pop-up stall, which is available for lunches and dinners of up to 150 guests. Through this service, guests are treated to Berlin's vibrant food culture, including the city's most iconic dish: Berlin-style curry sausage, also known as currywurst. Featuring both vegan and vegetarian options, this food stall adds an unexpected twist to meetings and events. For a more laidback approach to meetings, the hotel also provides pilates sessions and neck massages.
In addition to the hotel's year-round offerings, Hilton Berlin will join the city in celebrating 30 years of reunification by providing a number of special features to its MICE customers, including delicious traditional culinary treats from East and West Berlin. At a time when the city is commemorating its reunification by celebrating its differences, there could be no better venue for either business or leisure than the Hilton Berlin.