Mandarin Oriental, Geneva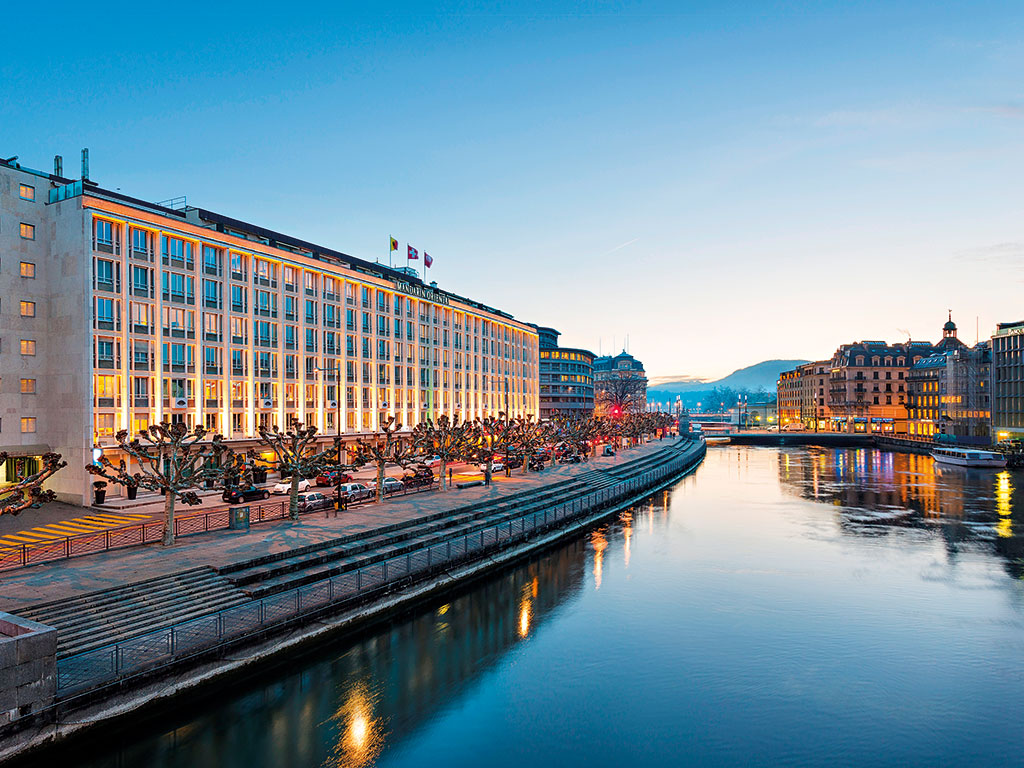 As a hub of cultural and commercial activity, Geneva offers incredible views, food and facilities for even the most discerning business traveller
Nothing is quite as delightful as strolling through Geneva's Old Town. Even in the coldest months, there is a warmth to the place that is simply infectious.
Through its winding, cobbled streets, one never has to go too far before stumbling across quaint boutiques offering the finest products the region has to offer. While having a sip of delicious wine or a bite of delectable Swiss chocolate, you are faced with the beauty of the snow-capped peaks of the Swiss Alps, a breathtaking sight that makes life all the sweeter.
The joy that is Geneva does not end with its astonishing peaks; leisure and business travellers alike can also relish the incredible sight that is Lake Geneva, one of the biggest lakes on the continent. Adding to the spectacle is the unmissable Jet d'Eau, a fountain that soars 140m into the sky and has become one of the city's most loved landmarks.
Home to approximately 930 multinational companies, Geneva is a global meeting hotspot
Global connections
Home to approximately 930 multinational companies and more than 120 NGOs, Geneva is a global meeting hotspot based in the heart of Europe. Among these firms are master chocolatiers and numerous high-end jewellery and fashion brands – including, of course, the finest watchmakers in the world. As such, Geneva is a unique luxury shopping paradise – just one of its many draws.
Geneva is also widely renowned for its exceptional gastronomy, boasting a multitude of award-winning restaurants as well as various food festivals that attract visitors from across the continent. Such attractions make Geneva the ideal location for business meetings, events and conferences, with any such rendezvous automatically becoming a pleasure to participate in. Furthermore, with more than 100 direct flights coming into Cointrin International Airport each day, Geneva is one of the best air-connected destinations in the region.
Crème de la crème
Located at the very heart of this paradise for business travellers is the Mandarin Oriental, Geneva. The hotel, which can be found within a bustling shopping and business district on the bank of the River Rhône, is the perfect example of Swiss tradition at its best. Its incredibly high standards of luxury and service set this space apart, offering its guests the utmost comfort and convenience.
With 189 spacious rooms, including suites with private terraces that look out at the majestic Mont Blanc, the Mandarin Oriental, Geneva has fast earned a reputation as a key convention centre in the region. Its status among Europe's best MICE destinations was firmly consolidated in 2013 when the hotel was completely renovated, bringing in a fresh look and state-of-the-art technology that leave its business delegates in want of nothing.
With fine dining restaurants that attract people from far and wide, visitors can enjoy the hotel's European-style Café Calla or its renowned Indian restaurant, Rasoi by Vineet. For those seeking a delectable cocktail in a stylish ambience of grown-up glamour, there is the MO Bar, a sleek, modern bar that sets a light mood for business parties after a full day of meetings.
Having a variety of stylish function spaces on offer, the Mandarin Oriental, Geneva can accommodate any type of business event, from large networking functions to more intimate affairs. With soundproof meeting rooms and private entrances to its designated function areas, the hotel offers all its guests discretion and peace of mind. With its hi-tech facilities, fine leather seating and ample natural light, you would be pushed to find a better working space in the business hub that is Geneva.
For more information:
mandarinoriental.com/geneva