Kuala Lumpur Convention Centre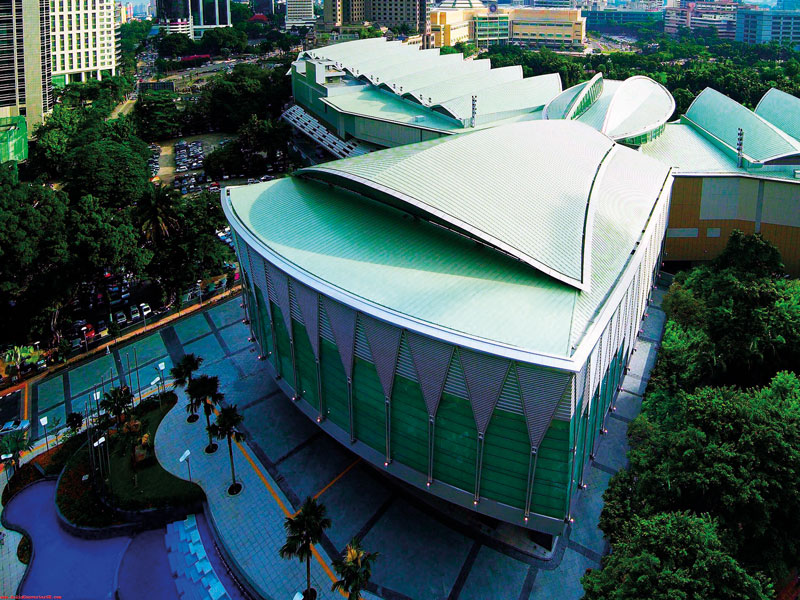 Located in the centre of Kuala Lumpur, the Kuala Lumpur Convention Centre is a versatile and modern venue with a sustainable business model
Malaysia's capital, Kuala Lumpur, is a striking destination for a holiday. In addition to its sunny weather, friendly locals and cultural sights, it boasts some of the most impressive architecture in South-East Asia, with dazzling skyscrapers dotted across the city.
Kuala Lumpur Tower and Petronas Towers are two of the most impressive, the latter of which even features its own music hall.
In recent times, Kuala Lumpur has attracted more than just holidaymakers. The city's growing potential as a business hotspot has also drawn the international community to Malaysia.
The city's reputation in the business sphere has been all the more enhanced by its world-class infrastructure, safety and wealth of meeting venues, which play host to many different events throughout the year. One of the most popular sites for business conferences is the Kuala Lumpur Convention Centre (KLCC).
KLCC's management endeavours to update and streamline its technological abilities so it can host meetings and events of any complexity
Always accommodating
The huge KLCC building sits at the feet of the iconic Petronas Towers, in the heart of Kuala Lumpur's central business district. It spans more than five levels, offering 22,659sq m of easily adaptable space.
The KLCC is divided into 23 meeting rooms of different capacities, meaning those in need of a meeting point have many options to choose from. The rooms can accommodate 50 to 256 delegates, while the banquet hall seats 750 diners and the Grand Ballroom can fit 2,000.
Aside from its wide array of rooms, the centre also has excellent digital facilities, allowing conference attendees to communicate throughout their event. The centre was designed by architect firms NEUformation and Cox Group, both of which specialise in hi-tech features that enable data networking, structured cabling, wireless LAN, 3G telecommunications and digital audiovisual services.
KLCC's management endeavours to update and streamline its technological abilities so it can host meetings and events of any complexity. The site has since become a top meeting spot for executives from a number of industries who want to convene in a place that is smart, sophisticated and comfortable.
When not working, visitors to the KLCC will be able to enjoy the incredible dining facilities on site. The venue's caterers can provide food for sit-down functions of up to 5,000 people. The team of 51 chefs puts together some of the finest meals in Malaysia, all the while complying with halal regulations and meeting health and safety guidelines.
Promoting sustainability
KLCC recognises its importance in the overall development of Malaysia and its travel and tourism sector. KLCC's management runs a number of initiatives aimed at boosting the country's credentials as a sustainable destination. Through communication with all of its stakeholders, from guests and employees to suppliers and the local community, KLCC encourages all interested parties to participate in its environmental and social programmes.
KLCC boasts an impressive and varied calendar of events throughout the year; in October, it will host the World Cancer Congress, followed by the Home Design and Interior Exhibition in November and the International Beverage Trade Network Fair later that month.
With its excellent facilities, beautiful views over Kuala Lumpur and wide range of modern technological capabilities, KLCC has cemented itself as not only a major player in the South-East Asian corporate events space, but across the rest of the world as well.