Congress Centre Basel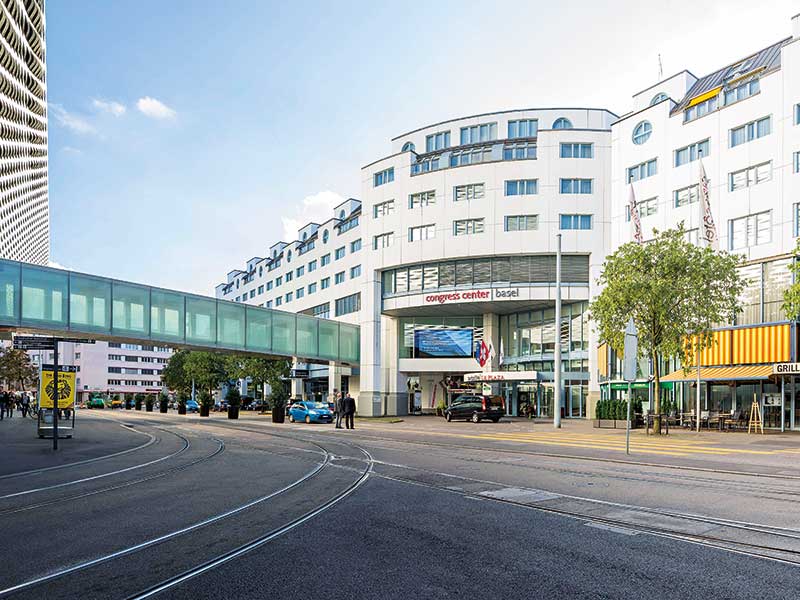 A compact, clean and walkable city, Basel guarantees conference-goers innovative facilities amid picturesque surroundings
Basel is Switzerland's prime location for exhibitions and conferences. The city's internationally famous events include Baselworld, the premier trendsetting show for the global watch and jewellery industry, and Art Basel, which is one of the world's leading modern and contemporary art shows.
The city of Basel is a major player in the life sciences. It is home to numerous biotech firms, while the pharmaceutical companies based throughout the city are constantly expanding. Basel offers a unique concentration of innovative companies, an open-minded culture, an international environment, and Switzerland's oldest university.
The centre of it all
The Congress Centre Basel, with its 25 modern rooms, is located in the heart of the city, right next to the Messe Basel exhibition complex and just a short walk away from a large number of hotels. Messe Basel, designed by world-renowned architecture firm Herzog & de Meuron, reflects the city's ideal combination of functionality and aesthetics.
This modern building boasts a multifunctional event hall on the ground floor, which has a direct walkway to the Congress Centre Basel. With a pillar-free surface of some 3,300sq m, plus 1,500sq m in the foyer, the event hall accommodates events for up to 3,000 participants, with banquets possible for up to 2,000.
The Congress Centre Basel is committed to many different aspects of environmentalism, and has adopted an extensive sustainability concept
In addition, 11 modular rooms further expand the Congress Centre Basel's facilities. These can be used individually or combined to accommodate events with between 10 and 1,000 attendees. The modular rooms are located on the ground floor, where they are directly accessible from the Congress Centre Basel's main entrance. As a result, a plenary event for more than 5,000 participants – including sufficient space for concurrent breakout sessions in the immediate vicinity – is no problem.
Sustainable setting
Holding your event in Basel guarantees not only state-of-the-art facilities, but a sustainable setting as well. The congress centre is dedicated to observing high environmental standards and operating in an economically sustainable manner, while enjoying a reputation as a reliable partner for internal and external stakeholders.
The Congress Centre Basel is committed to many different aspects of environmentalism and energy efficiency, and in recent years has adopted an extensive sustainability concept. Alongside various measures that are already having an impact, an in-house 'green team' has been set up to work on new projects.
Basel is compact, safe and clean. It is also a walkable city – most attractions can be reached on foot or via the excellent public transport system, which will take you rapidly and punctually to wherever you need to go, including over the border into Germany or France. Hotel guests in Basel receive a free 'mobility ticket' when they check in, enabling them to use public transport for free during their stay. Furthermore, since January, the city of Basel has been offering its visitors free internet access via the municipality's own WLAN network.
First-rate assistance
The team at the Congress Centre Basel frequently supports organisers over a period of several years, with all the different aspects of a congress working closely together with the city of Basel itself. All elements are precisely tailored to the needs of the event in question. Through this dedicated cooperation, it has been possible to stage more than 65 international and 60 national congresses of different sizes over the past five years, with a total of some 650,000 participants.
The Congress Centre Basel – the country's biggest congress centre – is part of the dynamic MCH Group, a leading international live-marketing company group. The company offers a unique services network spanning the entire exhibition and event market. As customers of the Congress Centre Basel, guests will benefit from this experience, enjoying efficient networking capabilities across all projects.